August/Sept 2000 MANAGE Bulletin
International Convention
Agricultural Marketing Management Challenges in the Millennium
The National Institute of Agricultural Extension Management (MANAGE) organized a two day International Convention on "Agricultural Marketing Management Challenges in the Millennium" during August 24 –25, 2000 at Hyderabad.
The convention was inaugurated by Shri T.R.Verma, Director General, National Institute of Agricultural Marketing Jaipur. In his address, Shri Verma called on the academics to suggest measures to offset surpluses in some areas/crops with the deficits in other area / crops. Dr. Mrutyunjaya, Director, National Centre for Agricultural Economics and policy research, New Delhi, delivering the presidential address, emphasized the need to keep efforts for increasing productivity going, building a strong market information system, increasing the efforts for value addition and building a network of marketing activities to assist the small and marginal farmers. Shri A.K.Goel, Director General, MANAGE in his address recalled the plight of the farmers who are often encountered with problems like lack of transport, lack of information and low prices for their commodities while marketing their produce. Dr. K.H.Vedini, Organising Secretary welcomed the gathering and Dr. H.S.Vijaya Kumar proposed vote of the thanks. The conference was attended by 90 participants. Seventy-five papers were discussed during the deliberations. Four themes were identified for the convention and each was chaired by an eminent agricultural economist.
The session on institutional framework had 23 papers presented on the existing institutional framework for marketing of agricultural produce. Discussions were also held on the proposals for amendments to agricultural produce (Regulation of marketing practices) acts of different states. Papers which evaluated the performance of farmers markets such as the ones in Tamil Nadu and Andhra Pradesh were also discussed. Methods of improving marketing efficiency were proposed. The problem faced by regulated market in implementing the regulations were discussed. The session also saw the merits and demerits of contract farming and stressed on the need to bring down the contracts in writing to safeguard the interests of the farmers. A paper from Sri Lanka presented the functioning of social mobilization federation and its role in marketing of fruits and vegetables. Finally it was suggested that the academics should be oriented towards the stipulations of WTO, paternity and export procedures for effectively researching on commodity exports.
In the session on "Pricing Management" the papers observed that the temporal and seasonal variations in prices of commodities had affected farm incomes in a big way. In commodities such as groundnut, the price priorities were not favourable to the farmers. The speakers felt that the minimum support price programmes should cover other crops such as tapioca. Further, it was felt that in the functioning of parastatals like FCI, CCI etc in market intervention there is much to be desired. It was suggested that there should be adequately trained personnel in agriculture and business management in the regulated markets for their effective functioning.
One of the sessions discussed matters on policies for agricultural marketing in the context of globalization. A number of issues were thrown up for discussion. These included quality management at grass root level, education to farmers, quality management, absence of quality in Indian Agricultural commodities, methods of maintaining quality, ISI, AGMARKS, ISO standards, WTO stipulations and India's position in World Trade vis-à-vis the future requirements. A number of case studies such as those of fruits, medical and aromatic plants, HACP etc were discussed. Finally it was decided that the problem encountered by Indian agriculture for exports is clear and suggestions must be put forward to overcome them.
A session on planning and management on agricultural product markets was held to specifically focus on commodity – specific markets. The problems faced in marketing of specific commodities were discussed. Emphasis was laid on livestock markets. The existing structure, conduct and performance of commodity markets was discussed and suggestions were given for reforms in the market structure.
(K. Venkateshwar Rao, Nodal Officer (IT))
Ahmednagar district is located at a distance of about 120 kms from Pune. It is one of the NATP districts chosen in India for a pilot district implementation study. The district is made up of 14 – blocks called talukas. To establish the intranet / internet connectivity in the entire district extension offices as well as line departments, the existing DOT telephone communication linkages have been utilized with modem based Multimedia Computers at all block level offices. The linkages are not only between blocks of the district but also with Commissioner office at Pune; ATMA center, Ahmednagar ; SAMITI, Nagpur; NATP cell at Pune agriculture office; Bahaleshwar KVK; MPKV Rahuri Agriculture University and other line departments. The total number of offices covered under e-mail connectivity are about 30 within Ahmednagar district. These offices are equipped with Internet facilities to keep in touch with the entire world by a click of a button.
The Internet facility is provided by VSNL at all offices in Ahmednagar district with TCP/IP connectivity scheme of 500 Hours subscription from Ahmednagar itself. The district service provider has the local server at Ahmednagar itself. Hence the dialing number to use INTERNET as dial-up connectivity comes under local phone billing. Hence extra investment for telephone billing does not arise at all. This becomes an added advantage for budget as well as speed of Internet browsing within the district.
An IT facilitator has been placed at the district ATMA office to conduct training on computer applications, Internet etc., trouble shooting any problems related to hard-ware as well as software for all offices located in Ahmednagar district.
The Ahmednagar district e-mail yellow pages are under publication in Marathi as well as in English which would serve each and every district extension functionary as a regular contact communication channel. This will be distributed to all the extension functionaries as well as the line departments and allied coordinating department functionaries. This is the info-revolution at hand.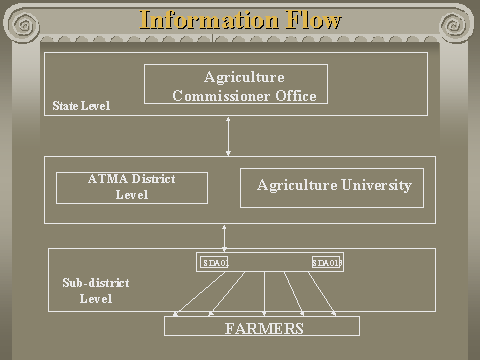 The stages at which the final e-mail connectivity is going to be established is as follows:
Phase I: All the district level units and departments along with sub-district units connected with TCP/IP Dial-up Internet Connectivity.
Phase II: Publishing and distribution of the Ahmendnagar e-mail Yellow Pages of the extension functionaries and allied coordinating agencies within as well as outside district.
Phase III: These centers are going to be integrated virtually by Hosting a Multi-lingual Web Page with SMTP e-mail connections as a single domain for inter-agency transmission of e-mail / messaging systems.
Phase–I and phase-II are in completion stage. The implementation of the final stage i.e. Phase-III is under execution. Once this is completed the total district will be in touch with the entire extension community not only within the district but with the entire country as well as the whole world.
Greening Institutional Land
An earlier issue of the MANAGE Bulletin focussed on how Institutional Greening at MANAGE was achieved through watershed strategy. This is a story of an attempt at Greening NIAM, Jaipur.
In April, 1997 when the National Institute of Agricultural Marketing was shifted to the new campus, it wore a desolate, barren and veritable desert look. The area of 32 acres was pastureland, with wild bushes and weeds. The undulating land, sandy soil, infested with termites did not provide any scope for vegetative growth. Scanty rainfall, highly alkaline soil pH, absence of silt and clay particles, poor organic matter with poor water retention intake posed a big challenge for any plantation programme in the campus. Plantation activity in this type of barren and sandy soil was therefore a Herculian task. In our endeavour, however, to provide the Institute a lush green environment, with lot of plantation and development of lawn area, the following strategy was adopted to launch a massive plantation programme in the Institution.
Sturdy Plants of Gulmohar, Neem and Amaltas, capable of surviving even under adverse conditions were identified for plantation. The soil texture was improved by mixing of black cotton soil with green manure to increase the water holding capacity. Every basin with size of 2 to 2.5 feet periphery with a mixture of 8 to 10 kg. Silt, clay, soil and compost manure was mixed to improve fertility of soil and growth of plants. Verrmi compost and compost manure once in every three months was added for growth of plants.
Plantation of 600 trees was undertaken in the month of May, 1997. All the pits were covered, after watering the plants with leafy cover of banana leaves, with a view to retain moisture and to control the soil temperature beneath the root zone. Regular watering was done to increase humus leading to speedy growth of the plants. All the trees survived the oppressive and sultry climate touching temperatures of 400C to 500C in summer in Rajasthan.
To undertake massive plantation in rainy season the undulating land was leveled in the month of May and June, 1997 and digging of pits were completed in the entire area of the Campus, to take optimal advantage of the ensuing Monsoon.
Massive plantation was started on 8th August, 1997 coinciding with the beginning of the ninth year of the inception of the Institute. In making further area for plantation a legume crop Dhaincha was also sown and at the flowering stage trampled in soil as a green manure use. Soil Nitrogen thereby increased and it contributed supply of essential nutrients in the fallow land.
About 6,000 trees were planted consisting of 100 species. As a measure of development of plantation the rainwater was substantially utilized. The development of plantation areas had mani-fold benefits such as decreasing the water flow, containing soil erosion. Full absorption of water in the soil led to increase in the ground water level and temperature decrease in the soil, creating congenial humus conditions for plant growth as well as improving soil quality. Deposition of silt, clay particles and retention of organic matter tremendously helped in reducing the watering requirements. The addition of black cotton soil in substantive quantity in almost all pits, lawn area paved way for qualitative improvement in the sub-soil.
The development of the lawn area provided excellent support for improvement of humidity and moisture retention. The incidence of shifting of sand dunes and erosion of top soil was stopped leading to soil fertility and environmental improvement.
As a measure of environment friendly input a unit of compost and verrmicompost production was set up in the nursery to produce good quality manure. The Institute is producing about 100 tonne vermicast manure every year. The Institute has thus taken care of available vegetative residue on the Campus, which is being used for mulching of soil and basins. Through this technique available vegetative residues are being recycled producing quality manure. With increased availability of vermicast and green manure intensive and extensive plantation was undertaken during spring of 1998.
In 1998 during the rainy season, the saturation stage was reached in the Campus with the plantation of 8,000 additional trees. The entire staff, faculty and the trainees were also actively involved in the activities. To effectively monitor the development of horticultural activity the entire area has been divided in 7 blocks.
The activities of watering, manuring, hoeing and weeding etc. is being meticulously monitored on day-to-day basis in terms of the activities taking place in all the 7 blocks. The monitoring schedule has been devised by computersing the day-to-day activities. The computerized monitoring gives an overview of the activities of watering, manuring and maintenance in plantation area and lawn area.
The application of fertilizers, Ammonium Sulphate, Super Phosphate and Potassium Sulphate mixture supplying to each tree is also proposed for speedy growth, termite control, addition of manure. Neem application which is environment friendly has also been proposed.
The Campus now has wealth of about 16,000 plants consisting of 140 species. Some plant species especially acclimatized in the campus are from different areas with different climatic conditions. These plants have been given special attention in regard to hoeing/weeding and have sustained in the difficult climatic condition of the campus. A combination of water conservation, improved soil fertility and improved horticultural practices have transformed the hitherto desert in to a blooming garden. The programme of beautification of campus by horticultural and gardening development activity has been executed successfully thus encompassing the activities of plantation, orchard development in the campus within a short span one and half years viz. April 1997 to December 1998. The campus has become the visiting place of all Institutions keen to replicate the successful efforts of plantation and horticultural activities in their institutional areas. The Jaipur Municipal Council and the Jaipur Development Authority are initiating the programme of greening Jaipur on the lines of development activities executed by NIAM. The place is also being frequently visited by tourists and those engaged in environmental improvement programmes.
The strategy adopted by NIAM, in terms of intensive and extensive plantation in time bound manner if replicated in all other institutional land would go a long way in our endeavor to greening the institutional land as well as to endow it with wealth for posterity.
World Trade Organization (WTO): and its implications on Indian Agriculture
MANAGE conducted a two-day seminar on "World Trade Organization (WTO) and its implications on Indian Agriculture on July 18th and 19th, 2000. The seminar was organized to discuss various issues that may have a direct bearing on the farming community.
Sri A.K.Goel, IAS. Director General, MANAGE sensitized the Govt. Officials, planners and policy makers about WTO and its implications on Indian Agriculture. Prof. Samar K.Datta, IIM, Ahmedabad and Prof. Vijay Sardana, Vice President, Agri-Net Solutions, New Delhi, were involved in conducting the programme.
Sri Ramulu, a farmer from Chevella Mandal, was invited for inaugurating the seminar.
There were around forty participants including government officials, administrators, planners, policy makers, agriculture scientist. The participants exchanged their thoughts and ideas and made suggestions for preparing the Indian economy in the light of International players entering into the domestic market, as WTO is instrumental in engineering the trade in all sectors in general and agriculture in particular.
The speakers of the seminar opined that as we have joined the bandwagon by signing the agreement, we should stretch ourselves to see to it that it should not hamper our interests. The seminar discussed matters relating to General Agreement on Tariffs & Trade (GATT); strengthening the competitive Edge of the Indian Food Industry; WTO Frame work for Indian Agriculture etc.
Sri Vadde Shobhanadreeswara Rao, Hon'ble Minister for Agriculture presided over the second day session. He took an active role in analyzing the various aspects of the WTO and its implications on Indian Agriculture. He congratulated MANAGE for organizing a two day seminar on the issue, which is of greater importance in the present day Indian context.
He indicated that he had a detailed discussion with Sri Nitish Kumar, Hon'ble Union Minister for Agriculture regarding convening of the meeting with line departments of different states to discuss about the WTO & its implications on Indian economy with special reference to the agricultural sector.
He said that the first and foremost thing was to educate the farmer, who is the focal point in the context. Every possible help can be extended to the farmers if the government had a strong view to do "something good to the farmers",
In this regard he highlighted the innovative schemes of Govt. of A.P. By using KU Band Information Technology, the state govt. is going to start 4 separate channels out of which one channel will be exclusively for the agriculture sector. Finally he requested the organizers of the seminar to " come out with an executive summary which may be useful for making the policy in black and white".
The seminar generated lot of enthusiasm among the participants. The issues like benefits of neem cake, patent structure for Basmati Rice Production, poultry industry, dairy & rice which are of greater importance & relevance to the country in general & A.P. in specific were discussed. Dr.K.H.Vedini, Programme Officer, MANAGE, coordinated the seminar.
Networking for Information exchange
MANAGE is in the process of networking with agricultural extension training and research institutions through IT connectivity. This is envisaged to emerge as a network of agricultural research-extension institutions across the country. The objective of establishing this network is to facilitate sharing of information and help in capacity building of some of the institutions to enable them to participate as equal members in the creation, sharing, and dissemination of information. The idea is to
Enable exchange of ideas, and information, discuss new concepts/developments

To provide access to products and services of these institutions to a world wide audience

Create a platform for experience sharing by individual experts, NGOs, other development organisations

To provide access to institutional resources in terms of technology, advice

To facilitate a two way flow of information
This information network will provide access to National and international literature ; In- house databases; Technological databases (Package of practices); Statistical databases; Project information; Personnel database; Library OPACs using the web as a platform.
In order to facilitate such a network at the local level, in Hyderabad to start with, linkages are being established currently with Regional level institutions e.g. Extension Education Institutes (EEI); National institutions like DOR, and other Institutions of the Indian Agricultural Research system. The plan is to include the Voluntary sector and also research stations spread over different agro-climatic zones which will provide agro-ecological situation specific data to extension managers , researchers at district and sub district level.
MANAGE has facilitated the process in DOR and the four Extension Educstion Institutes (EEI) at Rajendranagar, Nilokheri, Anand and Jorhat. Extension Education Institutes (EEI) at Rajendranagar and Anand and DOR are currently accessible on the Internet and give access to information about the Institute; Faculty; Training programmes; Research Projects; Education programmes and Publications.
The role of MANAGE has been to facilitate these institutions in Capacity building of Trainers, researchers who are the users of such a network, documentation specialists, and librarians to improve information handling and management; preparing web-based content (e.g., a home page); Digitizing relevant full text of the institution and making such information available on the virtual platform. MANAGE would also be facilitating institutions in Development of databases for wider access to others; and to adopt standards and guidelines for information management.
1) Management Issues in Rainfed Agriculture India (Editor - K.H. Vedini) Rs.250
The book emphasizes the importance of dryland to meet the needs of the future. It is a comprehensive representation of the papers presented at the National Symposium conducted on Rainfed Agriculture at MANAGE during 7-9, June, 2000. This book is a synthesis of twenty papers representing the original research findings on various aspects of rainfed farming and its management. A few are concept papers trying to project some of the issues associate with prevailing scenario in rainfed economy.
2) FLORICULTURE : From Theory to Practice by K.H.Vedini Rs.175
This book presents a detailed understanding of the management of floral industry in Netherlands mainly emphasizing on pre-production market linkages and post-production market linkages, which broadly includes raw material industry and the product market. The present study explores the management aspects of the Netherlands floral industry emphasizing on the auction platform, which is unique to the study area.It focuses on three important aspects in general of the Dutch floral industry .Firstly it explores the production and trade structure of the study area, secondly the distribution pattern and networks and thirdly the environmental issues. This gives an understanding that the environmental concern is not only limited to health but also gaining importance in the ornamental sector.
Strategic Research and Extension Plans
3) Strategic Research and Extension Plan of Ahmednagar District, Maharashtra
4) Strategic Research and Extension Plan of Dumka District, Bihar
As a part of the Innovations in Technology Dissemination component under the NATP, two thrust areas are being tested out: introduction of decentralised strategic planning and active participation of farmers through group approach in the preparation of these plans. The first two of the Strategic Research and Extension plans are ready for Ahmednagar and Dumka districts. These cover some background information about the district, extension and developmental schemes in the districts, identification and analysis of different enterprises commodities within each agro-ecological situation, proposed research and extension strategy. Based on the strategies an activity plan has also been worked out as to guide the field personnel in their field programmes and also to help the Agricultural Technology Management Agency (ATMA) realise the potential of development.
Videos
A journey through watersheds : Focus is on Watershed Development in Andhra Pradesh: Indo-German Projects;Ralegaon Experience;Vanarai and MRRADA Experiences.