About FTF-ITT
A new Agriculture Partnership between US and India to achieve Ever Green Revolution to address Global Food Security was announced during the State visit of US President Mr. Barak Obama to India in November 2010. The effort included Triangular Cooperation adapting technological advances and innovative solutions to address Food Security Challenges in Africa. This Pilot Stage focused on three African Countries i.e., Kenya, Liberia and Malawi with potential to expand throughout the African Continent in future.Consequently, National Institute of Agricultural Extension Management (MANAGE), Hyderabad and National Institute of Agricultural Marketing (NIAM), Jaipur conducted 7 training programs covering 219 executives from Kenya, Liberia &Malawi. Participants Surveys were conducted in Kenya, Liberia & Malawi to assess the impact of training programs. Results were beyond expectations. Due to the success of first seven training programs, there has been considerable enthusiasm from the prospective Executives from Africa and Asia to participate in the present training program. USAID and MEA identified additional countries among those involved in GOI-supported development programs and designated as Feed the Future; India Triangular Training Programme. During the recent visit of Hon'ble Prime Minister to USA, through joint statement, Hon'ble Prime Minister and President, USA welcomed trilateral cooperation with African Partners including in areas such as agriculture, health, energy, women empowerment and sanitation under the statement of guiding principles on triangular cooperation for global development. They looked forward to opportunities to deepen the US-India Global Development Cooperation in Africa, as well as in Asia and beyond.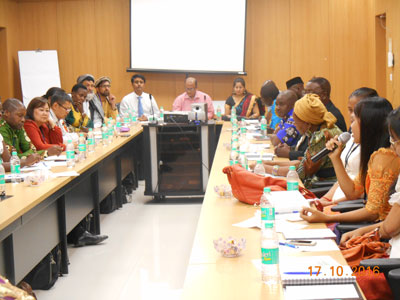 Training Program Description: There are a number of lessons learned from the training models used in the initial triangular training programmes. Based on previous experiences and those of several comparable short-term specialized trainings that several international agricultural centers offer, the following two approaches will be used for this second phase training:
Trainings in India: The program will conduct 32 fifteen days training courses (excluding travel period) at select Indian institutions for 25 participants in each programme. Each course module will focus on themes or subsectors in which Indian institutions are reputed or have demonstrated comparative advantage to offer such trainings and ensure that it effectively responds to the target countries' capacity gaps.
Trainings in target countries: Under this approach, the program will conduct twelve, ten days duration trainings (excluding travel period), in select countries in Africa and Asia, for up to 50 participants per programme. This approach is designed to respond to the needs of target countries with large HR development needs.
Objectives of Training: To address human and institutional capacity gaps in food & nutritional security, in select African and Asian countries.
Course Content: Specific subject areas to be covered will be identified and appropriate course content will be developed following capacity gap and skilled HR demand analysis of critical stakeholders involved in the planning and implementation of national food security priorities. These may include, but are not limited to private agro-businesses, public service providers and policy makers, for profit and not for profit non-governmental organizations, professional associations, and farmers (both women and men) groups.
Methodology: MANAGE will follow a participatory approach in program design and implementation, offering each participating institution and participants the opportunity to contribute to and participate in the program design and deployment process.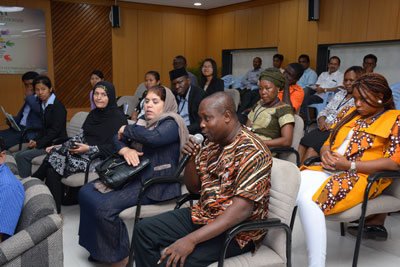 Selection of Participants: MANAGE, USAID and the Government of India (GoI) will formally inform officials of new participating countries' governments before program implementation begins. Nominating entities and applicants will be required to submit their respective nominations and applications directly to MANAGE through their respective countries' Ministries of Agriculture or appropriate government agency. MANAGE will be responsible for reviewing the applications and selecting the final participants based on diverse working areas viz., Planning, Administration, Teaching, Research and Extension in Agriculture and allied fields namely Livestock, Fisheries, Natural Resources Management, Nutrition, Agribusiness, Post-Harvest and Value Addition, Marketing etc.
Duration: The duration of each training program will be up to 15 days for in country training programmes and ten days for third country training programme, excluding arrival and departure time. The trainings will be held in India and third countries.
Venue: Trainings in India will be held at MANAGE's campus in Hyderabad or at the facilities of participating Indian institutions. The sites for trainings in Africa and Asia will be determined during the scoping phase following the signing of this Agreement.
Monitoring and Evaluation Plan: MANAGE, in consultation with USAID, will develop a detailed performance monitoring plan.
Participant Survey: MANAGE will administer three participant assessment surveys. The first will be at the time of enrollment, but no later than the first day of instruction to ascertain the participants' knowledge of the subject matter. A second assessment will be carried out at the end of the training, but no later than the last day of instruction to ascertain the participant's level of assimilation of knowledge on the subject matter. The final assessment will be administered once a year for a selected sample of training programs conducted during the year. The assessment will be designed and conducted collaboratively with the select faculty members who delivered the training and USAID/India point of contact.
Participating Countries: Afghanistan, Cambodia, Lao PDR, Myanmar, Mongolia, Vietnam, Kenya, Malawi, Liberia, Ghana, Uganda, Rwanda, Democratic Republic of Congo, Mozambique, Tanzania, Sudan and Botswana.